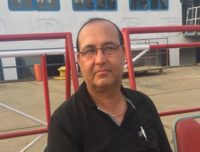 Mr. Shanti Lal Modi (Modi Doors)
How and when did you enter the Door Industry?
Me and my friend had been to Alang, Bhavnagar, Gujarat. When I saw the ship cutting on there, I thought in my mind that we could make its window, doors. Then in 1988 I took this product to Bikaner, Rajasthan and started making its windows and doors. We made it available to the customer in less than half the price of the wooden door, as well as the customer liked it very much.
What is your present manufacturing facility and capacity?
We make each and every type of doors and windows in a good as well as of superior quality. We can make 4500-5000 laminate doors every month as well as 4500-5000 forged and glass windows every month.
Please tell about your plant location and advantages of this location.
Our plant is in the Khara Industrial area, Bikaner. With our plant we can easily send our goods to everywhere and all types of transport facilities are nearby our locality.
What are the varieties of doors the company is offering at present? Which is the product most popular among consumers?
At present, our company is working in laminate door, routing door, glass door, flush door, Sunmica door and these types of doors are the most popular among customers.
Please tell about your product specialty.
The specialties of our products are: – Have Long life, easy installation, termite proof and made with the help of highly techniques and under proper supervision.
Apart from features you are providing what else you are planning to add?
We are planning to add modular kitchen.
What in – fill material you use in door and why?
The material which we use in filling is pine frame and popular filler because it has a good quality, no chances of termite, and no chances of bent on the door.
What material you use in door face?
In door facing we use good quality of Sunmica, proper finishing with the help of polish at the edges of the door.
What are the changes you observed in door market in 2018?
The market is moderate but the craze of customers to buy the laminated door is much as compared to other onces because of its good quality and cheap price.
What future do you see of finished door segment in India in next 5 years?
In India in next 5 years there is a great future of finished door segment and in finished door segment the laminated door have brighter future because it has long life, easy installation, easy to clean etc. The best thing about it is that it is termite proof.