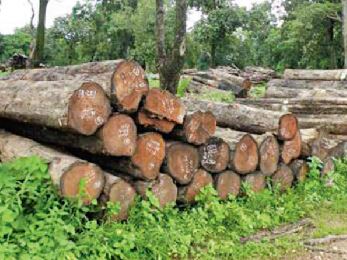 Kerala: Logjam at Forest Department's Timber Depots
After Covid-19 impacted major revenue streams of the government like lottery and liquor sales, the sale of forest timber which brings annual revenues of over R200 crore has also been affected due to the lockdown in the major timber sales depots in the Malabar districts which accounts for the major teak growing regions of Nilambur and Wayanad forests.
While there have been no timber auctions in five timber depots in the northern districts stretching from Kozhikode to Kasaragod after March 11, the response for timber e-auctions has been slack in timber sales division of Palakkad under which two depots selling prized team from teak plantations in Nilambur also falls.
Kozhikode timber sales DFO Sathyaprabha said that while the department has decided to hold e-timber auctions in the state from May 4 onwards, it could not be held in the five depots under the division due to restrictions in the depots falling under containment zones like in the case of Bavali in Mananthavady in Wayanad and earlier in Kannur.
"Also the auction in three depots scheduled to be held on May 21 in Chaliyam in Kozhikode and Parappa in Kasaragod had to be postponed due to technical issues after the servers of MSTC which runs the e-auction platform got impacted due to cyclone Amphan," she added.
Kozhikode timber sales division had fetched R24.5 crore in revenue to the government coffers last year.
According to forest officials the lack of demand for timber from traders due to stalling of construction activities and difficulties for traders to travel to the depots to make inspections of the timber lots have also affected participation in the e-timber auctions.
"The response from buyers, especially traders who buy timber in bulk, have been low due to the lockdown. Many of them have unsold timber in their yards. Also in depots like Walayar we used to get many buyers from Tamil Nadu, which has also been hit after the lockdown," Palakkad timber sales DFO Jayachandran G, said.
He said that the timber auction held on May 8 at Nedumgayam in Nilambur where 70 lots of timber were on sales, we could sell only 16 lots valued at R39 lakh. Also, the auction held in Wayayar depot on the same day could fetch only R14 lakh. "We had expected the sales from the two depots to touch at least Rone crore. The auction at Aruvakkode depot in Nilambur was also very negligible," he said.