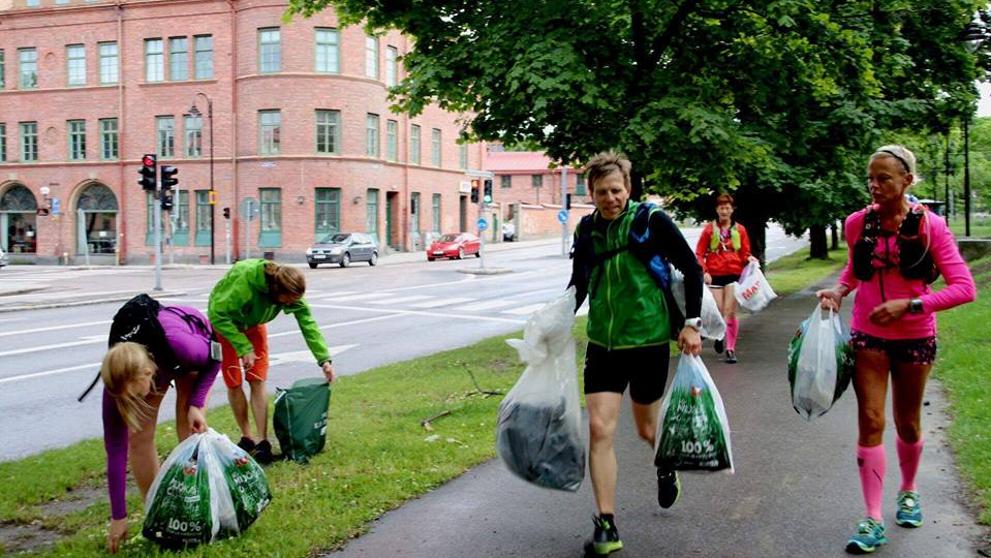 Fitness crazes, like much else, are born of lexical innovation: "spinning" for riding stationary bicycles, or HIIT (high-intensity interval training) for running fast then slow. The latest happy innovation, from Scandinavia by way of France and Thailand, is "Plogging": jogging while picking up litter.
It started as an organised activity in Sweden around 2016 and spread to other countries in 2018, following increased concern about plastic pollution. As a workout, it provides variation in body movements by adding bending, squatting and stretching to the main action or running.
While several plogging groups have already become active in European countries, the craze is now gradually spreading to other parts of the globe, including the US and Asian countries such as Malaysia and India.
Delhi is gradually trying to embrace this new tness trend, in which joggers pick up garbage as they run, to save the environment."Plogging is a new concept that is trending in the West. It is an environment- friendly exercise mashup that combines jogging with the environment benets of picking up trash. While jogging helps you to stay t, collecting the trash from the ground helps to keep the environment t and ne,"
said Shuchi Khanna a contemporary artist and a tness enthusiast.According to a Swedish- based tness app, which helps ploggers to track their activities, just half an hour of jogging coupled with picking trash helps to burn 288 calories for an average person, compared with the 235 burnt by jogging alone. A brisk walk will expend about 120 calories. Unaware of the new western trend and oblivious to what was going on around them, some of the morning walkers at Lodhi Gardens, Delhi were taken by surprise when they spotted the joggers stopping along the tracks just to pick up trash and store it in a plastic bag."It helps you burn some extra calories as you are constantly bending to collect the trash all along the route.  It is like doing squats while you are jogging. It also helps to break the monotony of jogging," said Abhinav Sharma one of the ploggers.
Still, plogging , with its environmentally conscious public spirit, should be welcomed by the government and awareness should be created for this novel concept..