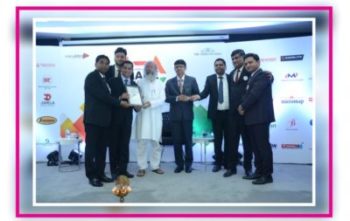 ---
                       

   PROUD MOMENT FOR
                                 TRIKALP LAMINTAES

The 'Make in India' felicitation ceremony organised by The Times of India Group, was an attempt to land the efforts of real contributors to country's economy. MSMEs are the backbone of the economy. They contribute about 29% in the country's GDP. This proves how important they are for the country's growth.
TRIKALP LAMINATES PVT.LTD. has been honored as the real achievers. "We are proud to be honoured as the top 50 MSMEs. It is deeply satisfying to win a prize in front of a lot of people," says Mr. Rohit Vashisth, director of the company. Mr. Vikas Mittal and Mr. Gaurav Mittal the directors of the company were also very pleased.
They were felicitated by Shri Pratap Chandra Sarangi, Minister of MSMEs.