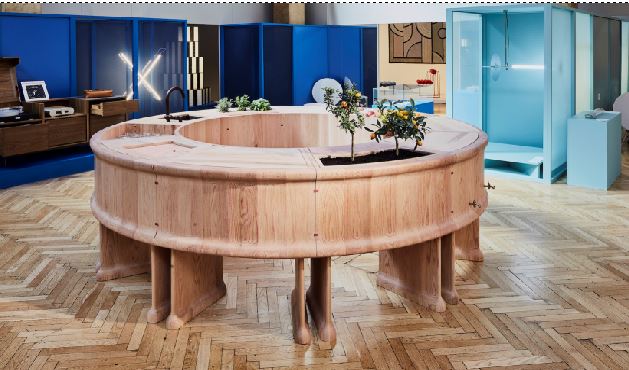 Throwing the spotlight on American red oak at Interzum Cologne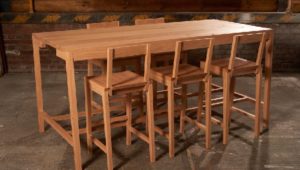 The American Hardwood Export Council (AHEC), the leading international trade association for the American hardwood industry, threw the spotlight on American red oak and showcased its innovative approach to hardwood communications at Interzum 2019 with two exciting new initiatives on show: The Blushing Bar – a 3m diameter circular bar that uses calligraphy ink to dye the large vessels of red oak, and Rubra – a new furniture collection designed by Sebastian Cox. The American presence at Europe's premier furniture production and interior design exhibition was at its most high profile since the 1990s.
One factor in this re-energized interest in Interzum is the dip in demand from America's biggest hardwood market, China. Such was the interest in attending the Cologne event, this year AHEC hosted two twin pavilions with a record number of exhibitors – 27 in total – the highest in decades. Information on the whole richly diverse palette of U.S. hardwoods was also available at the show. Additionally, AHEC invited visitors to take another look at species they may feel they're familiar with. In particular, the spotlight was on red oak, which was the sole species on show on AHEC's stand.
"Red oak is not just America's most abundant hardwood, and so its most sustainable, it's hugely versatile with an appealing, wonderfully warm aesthetic. However, while it's very popular in other markets, it's been less utilized in Europe," said David Venables, AHEC European Director. "We have some incredibly exciting projects lined up to showcase its potential through the year. It's oak redefined and it all starts at Interzum."
Originally created for Wallpaper* Handmade at this year's Milan Design Week, the Blushing Bar was designed by architects Chan + Eayrs and crafted by furniture maker Sebastian Cox. The circular bar measures at 3 meters diameter and is composed of 10 modules intended for making cocktails (water, alcohol, fruit, herbs, holders, ice, cutting, glass, sodas, wash basin), each of which forms a variation of a curved sculpted element. The design exploits the unique properties of American red oak, large open pores, which have been injected with red calligraphy ink, which worked to the surface to pick out the beautiful grain.
To further highlight red oak's technical performance and aesthetic, AHEC commissioned designer-maker Sebastian Cox to produce furniture for its stand at the show. The result is the Rubra collection; a long bar-height table with stools that can be ingeniously stored underneath. Cox wanted to cast oak furniture in a new light at Interzum; instead of it being heavy and chunky, Cox designed the range to be rectilinear, light and elegant. It was also nestable and designed for batch production.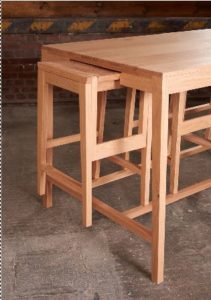 "Everything we design is scaleable with production in mind. Added to which the market needs more products in this material," said Sebastian Cox. "It was the perfect material for the brief. Its strength to weight meant we could make the proportions of the pieces very elegant. It also bends a great deal before snapping, machines beautifully and takes a finish well. One challenge was its eagerness to absorb glue, but, given a double application, the connections were as strong as in any hardwood. We also used a raw lightly white pigmented oil finish so it's near to natural as possible."
At Interzum, AHEC highlighted the environmental strengths of the U.S. hardwood resource, presenting its various tools for verifying its sustainability. These include the LCA tool, plus its interactive, satellite imagery-based interactive forest map and American Hardwood Environmental Profile, a 'green passport', detailing the carbon and wider environmental impacts of U.S. hardwood consignments shipped to any destination worldwide. The latest edition of its Seneca Creek-produced risk assessment study, a uniquely wide-ranging analysis of the risk of illegal wood entering the U.S. hardwood supply chain, was also briefly discussed at the show.
"In line with the strategy of AHEC's European Office, this calendar year will see a number of projects featuring red oak across Africa, the Middle East and Oceania. AHEC also participated in Denfair in Melbourne, Australia, which took place from June 20 – 22. We worked with architect and designer, Adam Markowitz, who has designed a stand featuring thermally-modified red oak vertical cladding and natural red oak furniture, as well as a sample table, highlighting red oak's staining abilities," said Roderick Wiles, AHEC Regional Director.
AHEC is also working with Houtlander later this year in Johannesburg, which is one of South Africa's newest, yet most successful furniture designer/makers. Having picked up the award for the 'Most Beautiful Object in South Africa' this year for their American white oak Interdependence II bench, they are now keen to explore the development of their range to include red oak, both natural and thermally-modified. In addition, AHEC is working with Dubai-based Hungarian architect and designer, Anna Szonyi, with whom AHEC collaborated in 2017 with Seed to Seat, to facilitate the remaking of her award-winning IDO Bench in thermally-modified red oak.
"The overall idea is to demonstrate the beauty and versatility of red oak in white oakdominated markets and to highlight its excellent working properties and the fact that it is the most abundant of the American hardwood species, with two cubic meters growing in the forest every second, and total growth exceeding harvest by 21 million cubic meters each year. Red oak machines just as well as white oak and finishes perhaps better; it bends more easily and takes treatment well for external use. It can also perfectly well substitute a species like meranti, with its similar density, permeability and grain," concluded Wiles.
www.americanhardwood.org.